Bubba Wallace – Mid-Ohio Advance
Bubba Wallace – Mid-Ohio Advance
Team: No. 6 Roush Performance Products Ford Mustang
Crew Chief: Seth Barbour
PR Contact: Mike Campbell; mcampbell@roushfenway.com
Twitter: @BubbaWallace, @Bubba6Team and @RoushFenway
---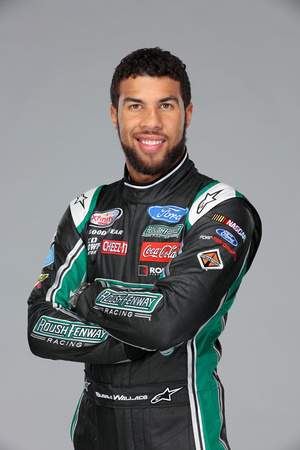 Wallace at Mid-Ohio
Wallace will make his second career NASCAR XFINITY Series start at Mid-Ohio Sports Car Course on Saturday afternoon.
Wallace finished eighth in this event in 2015.
In four career road course starts in the NASCAR XFINITY Series, Wallace has recorded one top-five and two top-10s with a best finish of fifth coming at Road America in 2015.
Recapping Watkins Glen
Wallace was involved in a multi-car incident on Lap 17 through the Esses that heavily damaged the nose of the Cheez-It Mustang and ultimately led to a 29th-place finish in the NASCAR XFINITY Series event at Watkins Glen International. 
Seth Barbour at Mid-Ohio
Barbour will call his fourth NASCAR XFINITY Series race at Mid-Ohio this weekend. In three previous starts, Barbour has recorded two top-10 finishes with a best finish of seventh with Marcos Ambrose in 2013.
QUOTE WORTHY
Wallace on racing at Mid-Ohio:
"We had a solid run at Mid-Ohio last season. Hopefully we can duplicate that this weekend and keep our Roush Performance Products Mustang on course all race long and come home with a strong finish."
---

Follow Infield Jen on Social Media!
Tags BlogBubba WallaceBubba Wallace Jr.Cheez ItDarrell Wallace JrFacebookFan-Sponsorship ProgramGoogleHighland Wealth Advisors LLC.Infield JenInstagramJack RoushMarcos AmbroseMid-Ohio ChallengeMid-Ohio Sports Car CourseMRNMustangNASCARNASCAR Camping World Truck SeriesNASCAR Sprint Cup SeriesNASCAR Xfinity SeriesNBCSNPRNRace City SteelRace Fans RockRaceGear.comRoush Fenway RacingRoush PerformanceROUSH Performance ProductsRoush Performance Products MustangSiriusXM NASCAR RadioTumblrTwitterUSAWatkins Glen International
You may also like...